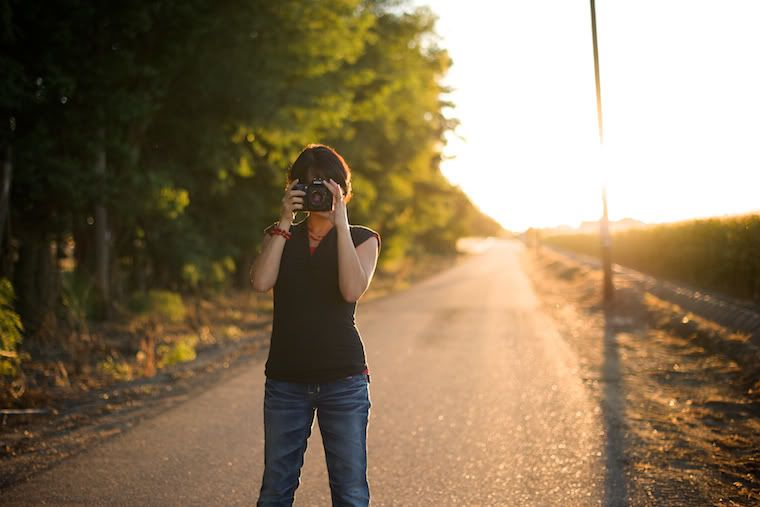 Alright!
I didn't want to dwell too much on this on my previous post, because I didn't want to take away from how amazing Natalie and Brian's day was, and how incredible they were, and are. It truly was their day, and their post. They did absolutely awesome.
But seriously, I feel like my wife rocked it. Hold on, let me back up. Ever since attending Jasmine Star's workshop, and meeting her husband JD, Luisa and I have played with the idea of shooting together. There are a lot of successful photographer husband and wife teams, like
Chris+Lynn
,
Gavin Wade
,
Jasmine and JD
. Seriously check these guys out. They're beyond awesome.
So Luisa and I thought we'd at least give it a shot. And I'll be honest, I was nervous, and so was she. Let me rewind again. I think the last time Luisa took pictures of something was last Christmas, up in the mountains, taking pictures of some hawks on our way up to a cabin.
I gave Luisa a little training pep talk a few nights before that went just about like this: "Okay, here's a 50 1.8. I want you on 'A' mode, at 2.8 pretty much the entire wedding. You see this button? This is the exposure compensation button. If you want your picture brighter, hold this and move the dial this way. If you want it darker, move it the opposite way. Got it? Good." Then I just told her to take a LOT of pictures, and try and experiment with every angle. And that's it. Off she went.
Long story short(er), she did amazing. At times it was hard, for sure. I think especially for her, not really knowing if I was going to like what she was getting. She felt like she didn't get anything good for me. Well...she was wrong. To be honest, some of my favorite images from the wedding...are hers. And I LOVE that.
For example, here is one of my favorite shots of the wedding. To me it shows true emotion and love, a couple privately holding hands and sharing their love together, just before the Priest performs their marriage. I LOVE it.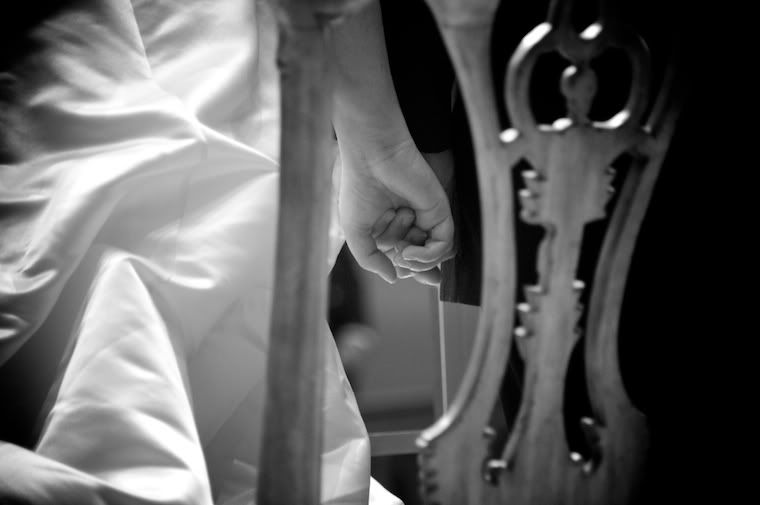 And just because I couldn't include every great shot of hers in my last post, here's a shot she got of the adorable ring bearer.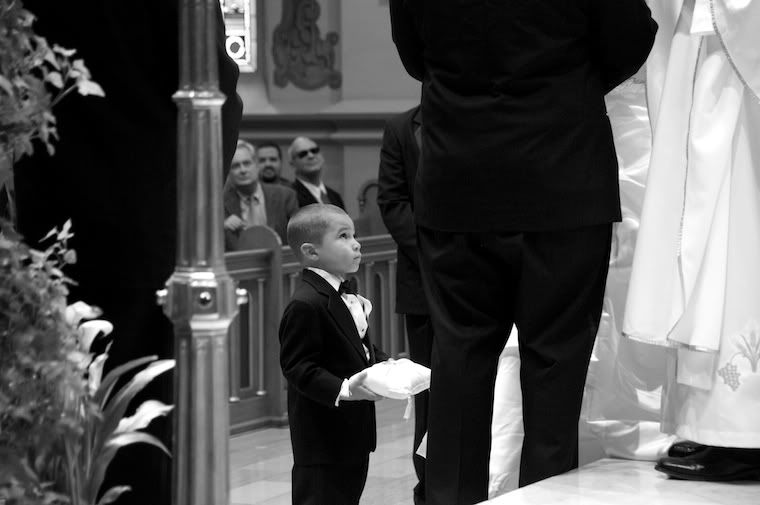 Now I don't know exactly where we'll go from here, nothing is in stone. I can teach her the camera mechanics and f stops and shutter speeds and ISO levels etc...she can learn that in time. But I do know that I LOVE her images, that she has an AWESOME eye, and that we love working together. With the many exciting new beginnings happening in our lives right now, here's one to add to the list. ; )