A few weeks ago, I found myself in Vermont with my wife and her family. It was a perfectly timed, and much needed break in between photo jobs, and it was SO great to be in this incredibly green state again. Not joking there, the ENTIRE state is green. Rolling hills, beautiful forrest, gorgeous farms, and the cutest old New England towns with their little white churches and everything. It was beautiful.
We spent the weekend reading, playing games with the family, cozying up by the wood fire (not to be confused with the "flip-a-switch" fire), and canoeing and row boating (? is that a word) on Lake Champlaine. It was an incredible weekend!
I left Monday evening to catch my flight the next morning out to Seattle for the CreativeLIVE and Jasmine Star event. As I left Vergennes Vermont, the sun was setting, and there was an incredibly dark rainstorm in the mountains. The sun caught the rain and created one of the most spectacular double rainbows I've ever seen. I kept driving, blasting the only station I could pick up, "105.3 The Peak - World Class Rock", snagging a few photos with my iPhone here and there...nothing special. I finally decided to get out, ran in the rain into a very wet (and muddy) field in my shorts and flip flops with my D3s and fisheye. I started laughing out loud as I hopped around the farmers field getting soaked, thinking of the owner coming out waving a shotgun, yelling at me to get out of his property. Just one sec...snapped a few photos of the rainbow, then turned the camera around and snapped a few of me. I've been told that I always make faces into the camera. I don't know why I do it, I guess it's my way of feeling more comfortable in front of the lens. I'm quite happy to be in my normal spot, right behind the lens.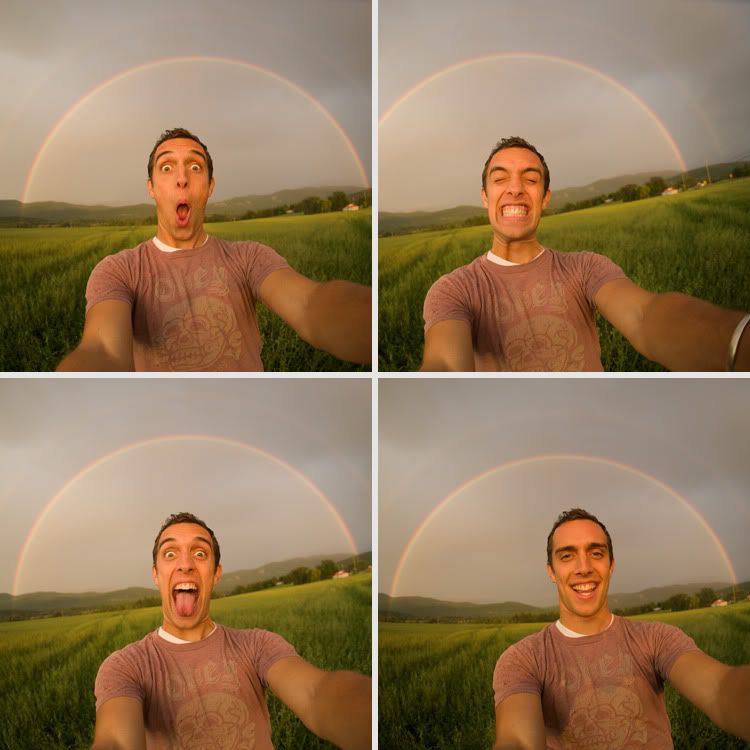 Happy Labor Day everyone. Enjoy your Monday!